Purchasing a new motorcycle is an exciting decision that you can make. While you make that decision, you should take a look at the finances that you have in your hands as well. In fact, you need to check whether you are in a position to afford the new motorcycle.
Begin Your Ride with Motorcycle Loans
If you notice that you don't have enough money in your hands to buy a motorcycle, you don't need to worry about anything because motorcycle financing solutions offered by SKIPPER Loans will benefit you.
What Exactly is a Motorcycle Loan?
Motorcycle loans belong to the category of secured loans. In other words, you should back up your motorcycle loan with collateral. Here, your motorcycle will be the collateral. Upon getting a secured loan, you need to understand that there is a possibility for the lender to repossess it, in case you fail to make the payments in time.
In order to make your life easy and obtain the loan, you should be careful to obtain the best motorcycle loans from a service provider that you can trust. That's where SKIPPER Loans can help you with it. We can provide the best motorcycle loans to people in need. In fact, we offer new and used motorcycle loans.
The loan rates we offer are reasonable and you can make the decision to proceed with us without keeping any doubts in mind. SKIPPER Loans is always looking forward to delivering the best new and used motorcycle finance services to the people along with a perfect impression.
Hence, you don't need to think twice before you make the decision to get our services. You can keep the peace of mind and proceed with obtaining what we deliver.
Advantages of Motorcycle Loans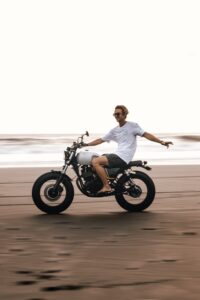 Instant fix: Whenever the crisis strikes, you are ready! Solve any problem within 24 hours using emergency cash loans.
Flexible terms:

We have a vast network of independent lenders ready to provide you with high-quality lending services.

Easy to apply:

If you are over 18 years old, have a U.S. passport, a job, and a bank account in your name, you are qualified.
Why Should You Obtain a Motorcycle Loan from SKIPPER Loans?
You have to deal with minimum documentation
Once you try to obtain loans for motorcycles from a traditional finance company or a lender, you will be asked to provide lots of documents. On the other hand, you will have to spend a considerable documentation fee on the process as well. That's where you can obtain the new motorcycle loans that we offer. We can help you to get the loan that you need with minimum difficulties. You will fall in love with the smooth process that you have to go through when you get used or new motorcycle loans from us.
You can apply for the motorcycle loan online
One of the most impressive reasons available for people to think about getting a secured motorcycle loan from our team at SKIPPER Loans is that we have provided an opportunity to proceed and apply for the motorcycle loan online. This will help you to get it without facing any difficulties at all. You will be able to get it online while staying in the comfort of your home. This can deliver a hassle-free experience for you.
Before you pick loans for motorcycles from SKIPPER Loans, you should think about doing a bit of background research. Then you can understand the different options available in the market to consider. This is where you need to pay special attention to the interest rates. You can keep those interest rates in mind and compare them with our interest rates. Then we can ensure that you are getting the best deal at the end of the day.
It is better to keep interest rates minimum as much as possible when you are obtaining motorcycle finance. That's because the interest rates can eventually contribute toward the amount of money that you will be paying for the loan at the end of the day. People who obtain a motorcycle loan from SKIPPER Loans can make sure that they don't spend too much money unnecessarily on interest.
We have flexible repayment facilities
You are provided with the opportunity to get your hands on flexible repayment facilities from us. Along with that, you can make sure that you are making the repayments for your loan without facing any difficulties at all. We will cater to your needs and provide superior assistance to you at the time of buying the motorcycle loan. Therefore, you can make the overall process smooth and painless with our assistance.
Go ahead and apply now to get your hands on the motorcycle loan now. SKIPPER Loans always looking forward to helping our clients by clarifying all underlying issues and making the best decisions at the end of the day.